January 2017
November 2016
September 2016
June 2016
A digital exhibition of contemporary art and design reflecting on the concept of metamorphoses.
Curated by Vilma Luostarinen.

This assembly of works reflects on metamorphosis as a concept and its potential to open up an alternative to dualistic worldviews, seeing the Earth as a vibrant landscape of ever-changing shapes.

Participating Artists: Astrid Linnéa Andersson, Sonia Bensouda, Ninna Berger, Hanna Bergman, Thibault Brevet, Mathilda Frykberg, Sanna Lindholm, Chang Liu, Laurance Liu, Rebecca Merrill, Sara Möller, Jessica Rayner, Natasha Rosling, Secret Pyramid/Amir Abbey, Barbara Amalie Skovmand Thomsen, Eiko Soga, Matilda Söderberg, Louise Waite and Alois Yang.

 
10th October 2015
'What is Potential?' Exploring Aristotle, Art and Medicine at the Wellcome Collection
Aristotle's thinking on potential allows us to understand how things change around us. Nature, according to Aristotle, is an inner principle of change and being at rest. If nature has the ability to transform itself, how do we make the most of this potentiality? The events of the day investigated potential and risk both in art and medicine.

Click Here to view the programme of events.
September 2015
February 2015

The Fugue, OuUnPo research session, Stockholm
The Fugue was the 14th session organized by OuUnPo, marking a return to Europe after ambitious sessions in Beirut (2012), Tokyo (2013) and Sao Paulo (2014). The session took its starting point from the fugue state, which is a rare psychiatric disorder that is characterized by complete but reversible amnesia. The patient loses all traces of personal memory and identity and can last hours or several days. It is characteristic that people suffering from dissociative fugue to undertake unplanned travel or wandering during which the patient might establishment a temporary new identity.

Partners and venues

Bonniers konsthall, Iaspis – The Swedish Arts Grants Committee's International Programme for Visual Artists, Index Foundation, MDT, KTH R1, Hallwylska Museet, Karolinska Institutet, Kungliga Konsthögskolan, Stockholm Italian Cultural Institute and Naïvité. OuUnPo is part of Vision Forum and supported by Creed. The events are organised with Curatorial Mutiny and supported by Linköpings universitet, Kulturbryggan, Stockholms läns landsting, Stockholms stad, Statens kulturråd and Kungliga konsthögskolan.
November 2014

We Are What We Lost, OuUnPo session, Sao Paulo, Brazil, November 7-16.
In partnership with Museu de Arte Moderna, Goethe Institut in Sao Paulo,
Casa do Povo, Centro Cultural Sao Paulo, Kunsthalle Sao Paulo and Videobrasil
and Pinacoteca Museum.
September 2014


Crosing the Line, Bristol Biennial, September 12-21
June 2014
Sonar+D Festival, Barcelona, sonic intervention for Soundry, June 12-14
May 2014
OuUnPoiesis, Fondazione Orestiadi, Gibellina, Sicily
December 2013

Dental Flux, Southbank Centre London, part of the literature autumn season.
E-book launch and performance (in collaboration with Candida Powell-Williams)
as part of the wider event investigating the overlap of poetry and contemporary art.
Group exhibition, Winter Palace, Valdmarsvik, Sweden
October 2013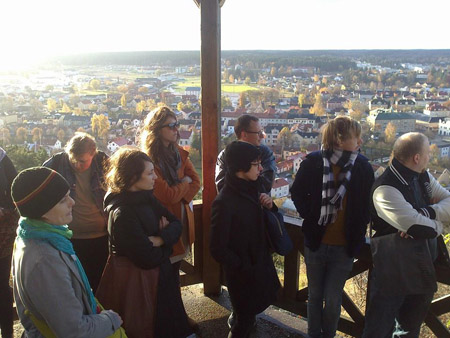 The Dialogics of Place Making, an experimental workshop for the public space
of Soderkoping, Sweden, realised as a collaboration with
Johanna Adeback for Vision Forum's Autumn Conference 2013.


Privileged to perform in SPEECH AND WHAT ARCHIVE'S 'A Love Medicine Show, Part II'
Arbis Theatre, Norrkoping, Sweden as part of the festival 100 år med staden som scen
September 2013
Baltic 39, Newcastle
Experimental lecture for TUNED CITIES,

Rising Above and Occasionally Falling Below, structure, projections, amplified voice.

Emphasising the importance of visualising and critiquing imagined worlds,
this screening program and symposium will explore the interactions of space
and temporal narrative, the creation of social dreams and the reality of working
within and through the urban environment of the present – for example, in
architecture, urban planning and social renewal.
The event will lead to an electronic publication that includes the creative
and critical work of writers, visual practitioners and digital humanists.
September 2013 - January 2014

Acting in the City, commission for the public space for Norrkoping Art Museum's 100th
year anniversary exhibition, Sweden.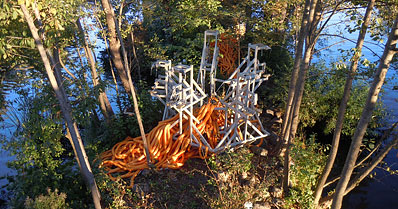 Organ of Admittance 2013, Norrkoping, Sweden
June - August 2013
Norrkoping AIR, IASPIS residency, Sweden
June 2013
Performance based intervention for the Mori Art Museum, Tokyo
Events were part of NIPPOUUNPO: GODZILLA AND THE PHOENIX, Tokyo and Yokohama
A ten day programme of interventions, workshops and perfomances realised in Collaboration
with The Mori Art Museum, Neko Lobby, The Boat People and Creative Hub 131
February 2013
New audio work for the listening platform - Soundry.

Click here for more info.
----------------------
Common Threads
Answering machine asks artists to record themselves reading a text
they consider meaningful and consistent with the present. The recorded
messages will be available as free podcasts. Per Hüttner was asked to
participate and chose read a text by Natasha Rosling with Natasha Rosling.
It was recorded at FCAC in Shanghai in summer 2012.

To listen and see more info click here.
4-10 December 2012
OUUNPO LEBANON - Catastrophe and Heritage
Intervention in the public space of Beruit.
Program in partnership with Batroun Projects and Ashkal Alwan.
Supported by Vision Forum and the European Culture Foundation.
May - June 2012

Solo Installation at Fei Comtemporary Art Centre,
Shanghai, as part of the exhibition, 'Think Again'
27th April-May 2012
Public installation for Blow-UP: Scale and Forces of Gravity in Desire
on the building of 4 Payne Road, Bow, London
Sponsored by Blink Giant Media and AskJohnLaurence.
With special thanks to East Thames Housing Associasion.

March - May 2012

Artist in Residence at Aberystwyth Arts Centre


Studios designed by Thomas Heatherwick
- read more about them here.



January 2012
Article about my work, 'Scale and Forces of Gravity in Deisre' for the Jeu de Paume, in collaboration with Soundoesntravel. Click to read>
29th October - 14th January 2011,
TRANSFER, solo show - Outline Gallery, Amsterdam
Curated by Christine van den Bergh


26th November 2011 - Performance and event at the Jeu de Paume Paris, for Blow-Up
Autumn 2011- March 2012, ongoing media/spacial interventions realised in the pulic arena, project curated by
Danele Balit and Christophe Bruno for Blowup's Virtual Space at the Jeu de Paume, France.


18th September - 30th October 2011
Sculptural installation on a canal draw bridge in Amsterdam
Public Comission for KADS.nl, sponsored by Blink Giant Media
26th August - 11th September 2011
Exhibition and events: ATTEMPTS TO GET INSIDE THE WORLD
Exhibition housing conference: NAVIGATING EXTREMES
Testing Grounds, February 2011 - collaboration with Kristin Sherman  with a one week residency at South Hill
Park in Bracknell, culminating in a final event on Saturday 26th February 2011.
September 8th - October 17th 2010,
Natasha Rosling / Foreign Bodies (solo), Hidde van Seggelen Gallery.
September 25th - October 3rd 2010
Ruffle (solo), Art House, Lewisham, Curated by Re-Make and coinciding with the Deptford X festival.
September 30th, Artist Talk: Natasha Rosling with Laura White, Art House, Lewisham, 6-9pm.